Say Goodbye to Disorganized Data with our FREE Student Information Record Template in MS Access Format
Are you looking for an easy-to-use and efficient solution for managing student data? Then you're in luck because we've got just the thing for you! Introducing the Student Database Template – an all-in-one solution to help you keep track of every student that's ever been enrolled in your institution.
We understand that the bigger the educational institution, the more difficult it becomes to manage student data effectively. That's why we've created this template to make your life easier! It's designed in Microsoft Access, making it the perfect tool for database management. Each student is assigned a page where you can enter their name, educational history, department of enrollment, duration of study, and contact details, along with other important information.
With this template, you can easily access any student's information whenever you need it. You can even organize the database into separate files for graduates, alumina, and current students, and separate files for each department to make the database more organized. It's really that simple! Download the Student Database Template now, edit it as you see fit, and start managing your student data with ease!

Importance of Keeping a Student Database for Educational Institutions
Any educational entity or institution is made up of the faculty it hires and the students it enrolls. Since the main purpose of an educational institution is to enlighten students with not just education but with every walk of life, making them better individuals for society and as a whole for the nation.
The bigger the educational institution the bigger the student body would be. It is crucial that a record of all the students that have been enrolled in the institution be kept as a record, not just the current but also the graduates and the alumina. Microsoft Access is suitable for database management since for every individual a whole page is made that would enlist their details.
Segments to Include in a Student Database
Segments in the file should include not just their names, but each and every detail about them such as what is their educational history, what department were they enrolled in, how long did they study at the institution (or if they are current faculty, the date which they started), what are their grades up till now or for graduates with what GPA and CGPA did they pass with and under what division., what are their contact details such as contact number and current address. Sometimes some educational institutions add all the details such as behavioral conduct and any awards that have been awarded. Also, a brief detail about the parents and guardians is also included.
It is suggested that the student database file be divided into each department. This would make the database organized. Also separate files be made for graduates, alumni, and current students.
This Template
Here comes an easy-to-use Students database template for the purpose to save all the information regarding students and you can easily get access to any student's information whenever you want. This Microsoft Access Students Database Template is designed in Microsoft Access 2007 with all the necessary information that could be helpful for you in this regard. Download this beneficial template, edit it as you want, and use it in your own way.
Have a look at this easy-to-use Students Database Template bellow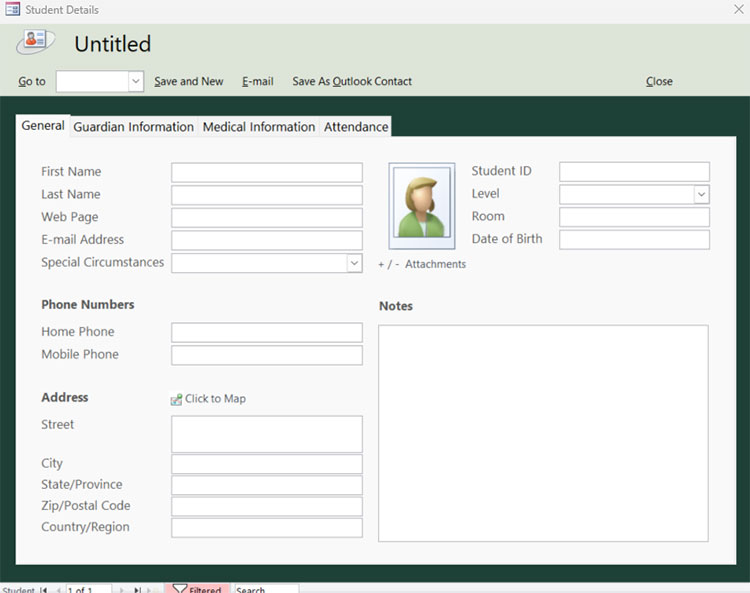 Older MS Access version view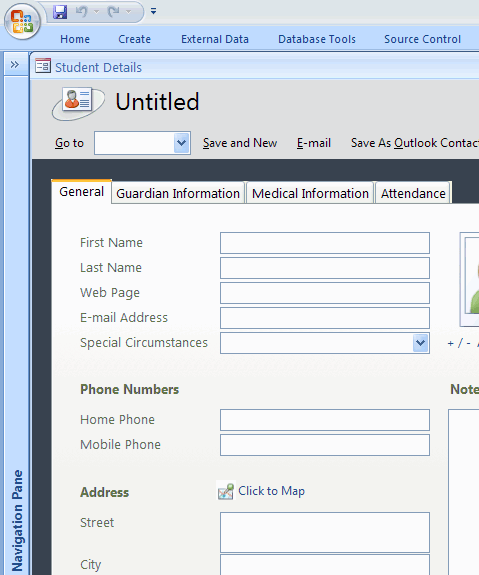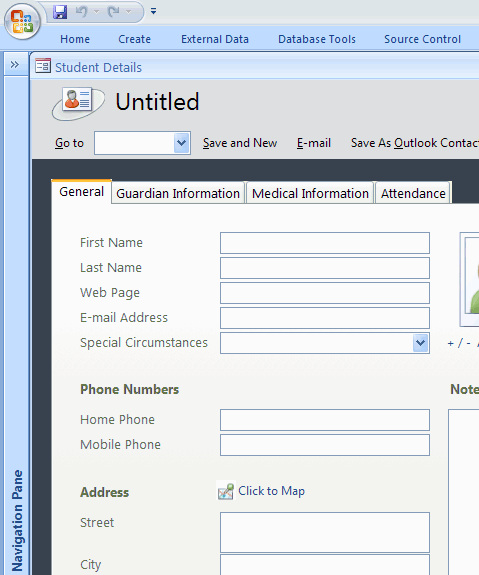 Click the button below to download this MS Access Students database template – Students' information record