Contacts database Template
The Microsoft Access Contact Database template is a completely featured contact system put up in all of MS systems such as the Microsoft Access tables, forms, reports and also the VBA code. This Database template is founded upon all of the ideas of the Microsoft Outlook Contact modules. This template has the benefit of being 100% access based which allows for this template to be incorporated into your existing access contacts database. The contact database template offers Search, Print and Export to Excel and also drop down maintenance.
If you want to use this template with a calendar view, then you can also get the Enhanced Microsoft Access Contact Database template. This version of the template allows you to view your data in a grid  view. So you can view it in a day form, week form, bi-weekly, monthly or bi-monthly form.
You will then have complete access to the database window, all design objects, and the visual basic project code and you can also modify or add to the template in any way that you wish. If you do not have the time to incorporate this database template into your system, you can contact us and we can help you out by making the system functional for you.
This Contacts web database template is nicely created for the purpose to save all the web contact conveniently and get excess easily to desired contact when needed. Here in this template you will find all the information that is required for a best web database template. This template is configured in Access 2010 with all required information, so you can use it easily. You just have to do nothing except download this template and accomplish your objective.
See below the preview of this web contacts access database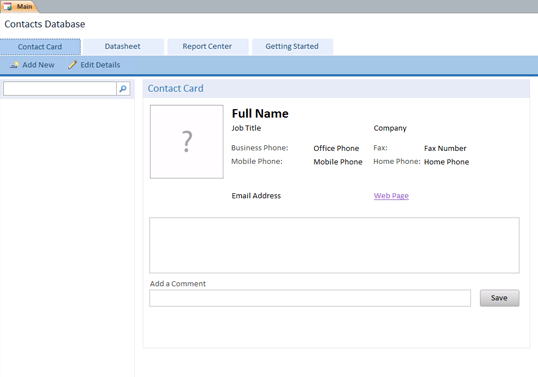 Click th link below to download this template