Pet Adoption Poster
Posters help a lot to advertise something either it is an event, a product, a service or a message. A poster that is designed with eye-catching graphics, colours and text is considered a perfect poster that can attract more people and convey the message properly.
Here we have a Pet Adoption Poster for you to help you advertise the Pet Adoption ceremony that you're going to have on a particular day at a specific venue. Basically this Poster Template is designed for the community who deals with Pet adoption, but you can alter this poster to use it to sell or asking for your pet. You can also use it for your lost pet. All you need to do it alter this template according to your needs.
This template has been designed using Microsoft Publisher 2003 and can be altered/customized very easily. Before you start downloading this poster, have a look at the preview of this poster as below. You can find the download link just below the preview image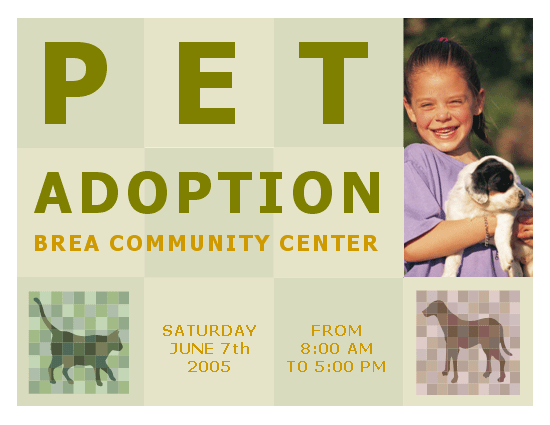 Your download will start instantly once you click the link above.