Sample Sales Quotation
Sales quote template is very helpful for having the weekly, monthly or hourly sales calculation. This is a complete record book and saves many of the paper wastage which is difficult to be kept. It also saves one from the hassle of search of a particular from the pile of the papers and keeps all the things on one paper. This paper may be used by the company' account department for the internal record or may be issued to the other party for acquiring any insurance or other services. This can also be helpful while making the sales graph on the annual basis.
It records the number of the brands being sold out and the prices with the given discount. A customer also gets it issued by the company as a sign of receipt and for claiming any deficit or the change of the product, the proof of the sales quote is necessary as it is a stamp that the customer has made the purchase over here.
If you are in search for a quotation template that full-fill all the above mentioned points, then you are at a right place. This template has everything that help you to generate your sample quote in not more than 5 minutes. All you have to do is to alter your information with the sample information provided in this template. To change any part of this document is very easy  because it has been created using Microsoft Word 2007.
Preview and Download image of this template can be found as below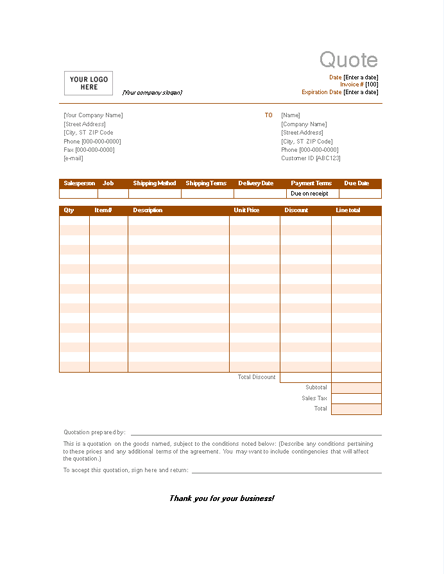 Click Here to download this Sample Quotation Form