Medical Brochure Template
Medical Brochure is the information provider for the services carried out. It reflects the infra structure and the facilities provided in the premises. It also gives an idea of the faculty and medical staff dealing with people. It is highly significant when you are visiting a medical place for the first time and have no idea of what type it would be. It does have the brief descriptions to show the medical activities going on and the pipe lined plans. It is surely a thing to notice for measuring the repute of a medical clinic or hospital. Usually this is the thing which communicates to common man and brings the relevant information to him because it's quite obvious that the spokesperson of a place cannot be heard all around in the town. So, better the brochure is made; higher are the chances of the market are there.
In order to save your time, we have got a ready-made Medical Brochure Template for you that you can use for any purpose described above. This brochure is designed in Microsoft Word and thus you can use it easily.
Find the preview image and download link for this Medical Brochure Template below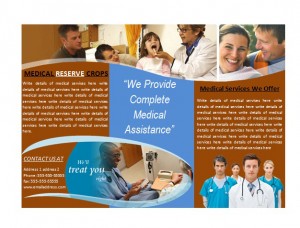 Download This Medical Brochure
Below are a couple more tri-fold brochures with 6 panels. Three for front side and tree for back with a lot of room to place your information and images in a nice layout.