Happy New Year 2012 Card
Here we are going to share one of the best card templates designed under the theme of New Year 2012. On the arrival of new year, every one wants to wish one's friends and loved ones. So you can wish and greet your loved ones on this special event. This new year card template is best option for you to wish the people you want. As far the look of this template, it is as beautiful and elegant as to get the attraction of every one in first glance. The colour combination, Red, Silver and White is very elegant and appropriate to the theme of template. There is written 2012 in most prominent style and beneath it much space is given so that you can write your special words to describe your feelings. Every thing related to this New Year greeting template is unique in itself and different in every respect. There are so many other options you may have but nothing is much batter than this template. If you want to change any thing in it you can perform it easily. But do remember that whatever you are going to change or replace must be appropriate.
Find the preview of this template below along with the download link to download this beautiful Happy New Year 2012 card template and send it to anyone you want either through E.mail or post.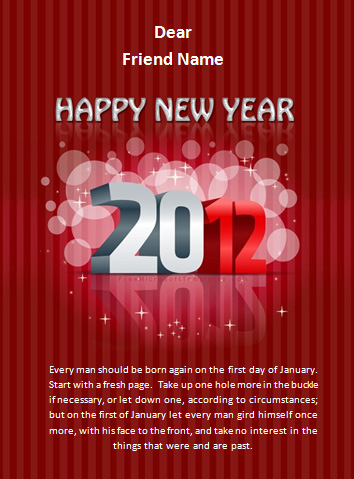 Download 2012 Happy New Year Card