5 Best Memorial Day Templates
Memorial day, also known as Decoration day, is celebrated on the last Monday of May to commemorate the people who took part in the Civil War and sacrificed their lives for the nation. Most of the people spend the weekend in shopping, organizing parties and events, visiting graves of martyrs, organizing concerts or in the similar activities. In order to save your time, we have got together few useful templates for this Memorial day event. These templates are developed using different tools of Microsoft Office so that you can easily re-use them to get benefit from the. Find the list of these templates as below
Award Certificate Templates
This is a beautiful Award Certificate template with US flag in the background and The Great Seal of United States on the bottom right corner. You can use this easily to create an Award Certificate for a ceremony.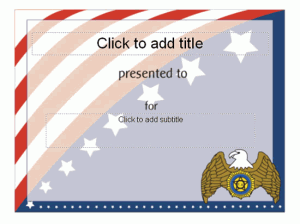 Download Memorial Day Award Certificate
This is another Certificate template designed using cross of US flags and a border around the template using flag colors. Both these Award Certificate templates are created using Microsoft Powerpoint and are very easy to edit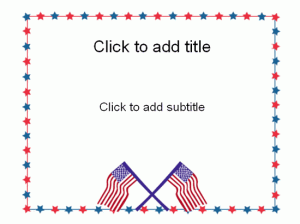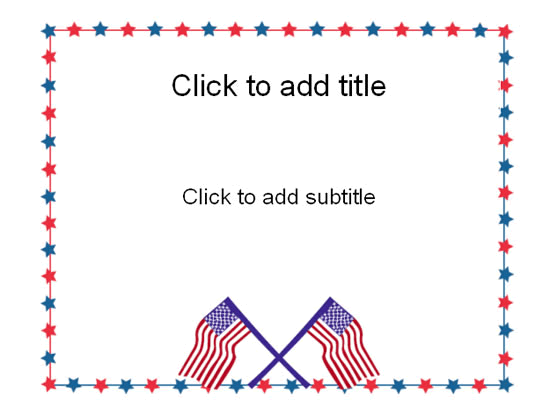 Download above Certificate template
Party Flyer Template
This flyer template is specially designed for a BBQ party organized on the Memorial Day. Background picture with lake and the contents written on it are easily editable. This Memorial Day Party Flyer template is created using Microsoft Word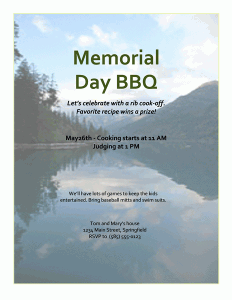 Download Memorial Day Party Flyer Template
Event Flyer Template
Use this Memorial Day Event flyer template to tell people about the event and request them to join you there. Beautiful colors with US flag and an attractive paragraph about the event is already a part of this template. You can easily change the copy or image to make it best fit for your event.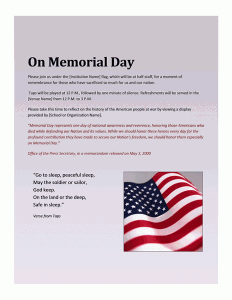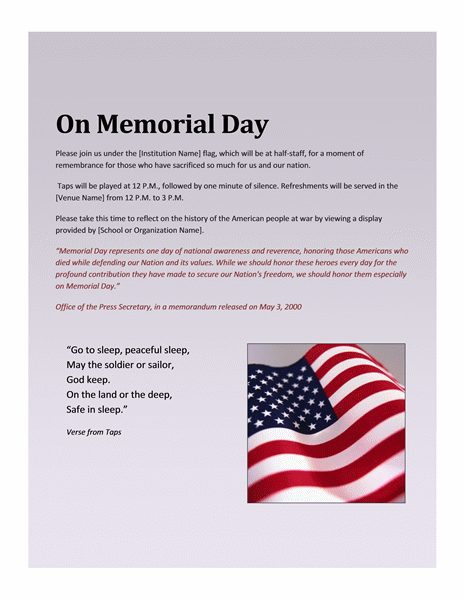 Download Memorial Day Event Flyer
Worksheet Template
If you have an event in your school, college or in a community and many people are taking part in the organization of this event, then you can use this template to assign different tasks to individuals. Black & white US flag image in the background of each task space make this template outstanding. You can edit this template using any text editor to make it work for you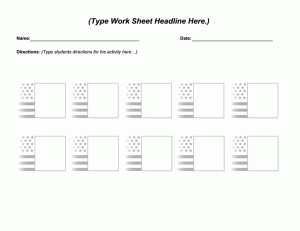 Download Memorial Day Worksheet