44 Tax And Non-Tax Invoice Templates
There are several important documents that are used for business purposes on daily basis. If you are part of a business entity you must know that there are always some kind of buying and selling taking place in organizations. These transactions may not only be specified to retailing companies. Manufacturers and service providers may also buy and sell supplies to other stake holders in the industry. One very important document that is used while making selling and buying transactions is called the sales invoice.
What is an Invoice?
An invoice is not just a document of sales but it is essentially an accounting tool. It is utilized by an organization to make communication with the customer who is making a purchase or getting services. This document helps convey the written details of the products or services being bought.  Some common elements added in an invoice include the following:
Names of the products and services sold to the customer
The prices of the products or services
The respective quantities of the purchase
Any rebates or discounts offered to the customer
Any other terms and conditions of the transaction like mode of payment, advance payment etc.
Total amount received from the customer and the amount owed to the customer
Hence it can be stated that an invoice is a small statement of goods and services that is provided by a business to another entity.  Every organization has its own invoice template. Whenever a sale is made the necessary additions are done to the sales invoice template.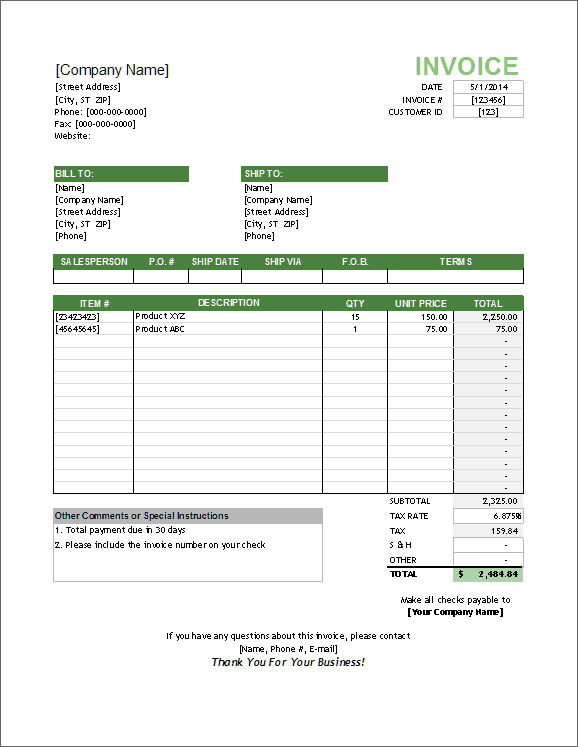 An invoice template varies from business to business or Services to service that is being delivered to a customer, and so the template. Based on this need, we have collected some rapidly used templates created in Microsoft Word , Microsoft Excel and Adobe PDF tools.
MS Word Invoice Templates
MS Excel Invoice Templates
PDF Invoice Templates