New Year 2012 Presentation
As the new year approaches, most of us may need to submit presentations to present the new ideas, thoughts, business plans, models or anything like that and may need to create a template for this purpose. Based on this idea, we have got a presentation template for you. This is a wonderful presentation template designed in Microsoft Powerpoint 2007, specially for the up-coming new year 2012. This is a generic new year presentation template that can be used to create a presentation for any purpose. You can use this to create your college/school assignment or to create your business presentation.
The use of word globe image in beautifully styled figure "2012" and dim/bright stars in the background make this template really stand out. Inner slides of the template have different layout and background image. Use the free text area there to add any kind of contents you like. You can also add images, graphs and other diagrams according to your presentation. You can also change the background image if this is not a best-fit for your theme. Everything is quite easy to change if you have even a little knowledge to use the MS Powerpoint.
Below is the preview of this beautiful New Year 2012 presentation template along with the download link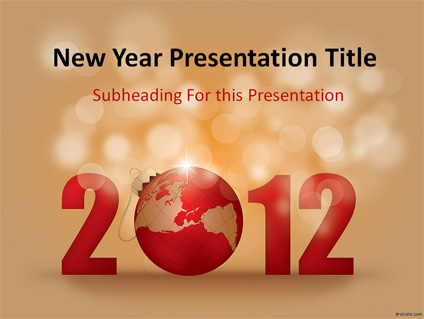 Download 2012 New Year Presentation Template