Assets Web Database
The MS Assets database let you track your business asset.  With an, easy to use interface, the database will record all aspects of asset management like procurement, account, history, whereabouts and devaluation of your assets.
Assets Database template keeps track of computers, office equipment or any other valuable owned or maintained by the business or the user. This new version of a popular Access template also lets you search particulars send e-mail messages, and let you navigate the owners' addresses.
Go to the templates, click on the desired template from the various pre -formatted saved templates you can search for more database templates on different websites.
Type a relevant name for your database. Now manage a specific folder to store your saved database. Your database is now ready for download.
Manage and maintain assets
Track the hardware for installed software!
Pre-configured to send asset verification requests
Multiple options and menus
Fully customizable to add your own requirements
Compatible with other MS access database
Each template creates a complete solution with or without modification as well as you can customize your data according to your need. Each template contains predefined tables, forms, reports, queries, macros, and in an organized manner
Likewise, you can download this Access database template by clicking the link below. Just add your data and customize it if needed .You can also navigate for previous records using this Database.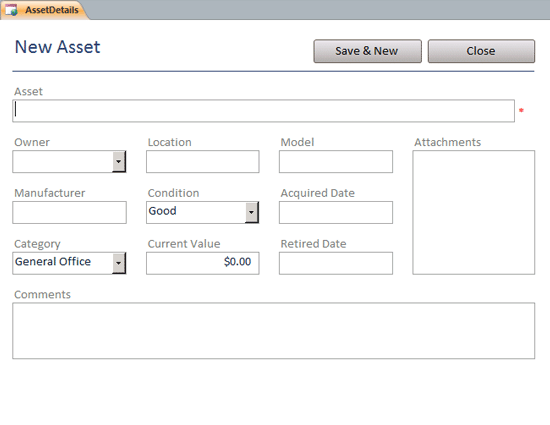 Do you want a template where you can define all the information about your assets? Then this Asset web Database template is very useful and time saving for you. It is prepared in Microsoft Access 2010 so that you can use it easily. You need not to do any thing , each and every thing that you may need  is already mention in this template, just download , add your basic information and use it for your purpose