Gift certificate 8.5 x 14 (black and white with tracking tab
Author: Admin
2 Sep
Here comes the gift certificate templates with all necessary information that you need in this respect. This Gift certificate 8.5 x 14 (black and white with tracking tab) is prepared in Publisher 2007 and carry out all the benefits that you need. If you are looking for such a comfortable gift certificate template then download this and fulfill your desire work.
Have a look at the preview of this Gift Certificate Template as bellow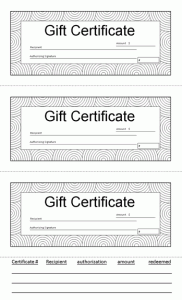 Finally download this gift certificate template bellow

No related template.