7 Useful Christmas Cards
Merry Christmas Card
Christmas is an event of celebration and happiness. Every one is happy and wants to greet his or her loved ones. On this special occasion we are offering you this very beautiful Merry Christmas greeting card. This Merry Christmas greeting is particulary designed to send those people to which you want to wish on this special eve. This greeting card is designed very beautifully. The use of relative images such as Santa and Christmas tree, make this greeting card an exceptional one. The selection of the color is again very beautiful. It would be best option to wish your relatives and friends. You can download this card and send it to any one you want either via email or post it.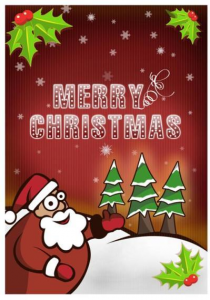 Christmas Gift Labels
As the event of Christmas is near and every one is conscious to get something beautiful to wish relatives and friends. On this special eve gifts are given to each other. If you are also going to send gifts to your special ones then use these Christmas Gift Labels to make your gift appearance more attractive and charming. Each gift label is beautifully designed under the theme of Christmas as the images show it very well. In one label, image of bell is used and in other one the cheery and cheery leaves. Except this there are two Christmas Gift labels with square shape in which different images are used in border line and one in round shape. Every gift label is exceptional in its designing and look. You can get these very beautiful labels very easily; print them out, write down the name of that particular person and send it.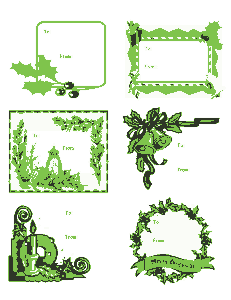 Download Christmas Gift Labels
Merry Christmas Banner
This is a beautiful Christmas Banner template that you can use for any purpose on this Xmas event.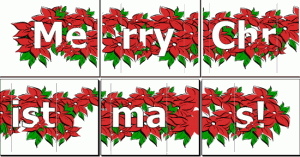 Christmas Present Check-list
The specialty of Christmas eve is exchange or gifts. Every one wants to give gifts to one's dear ones. But usually it happens we forget the name of some friends or relatives and sometimes it becomes difficult to remember the name of those to which we have already sent a gift. It is no more difficult and confusing for you because on this Christmas we brought up this very effective Christmas Present Checklist for you. It works very effectively as you can remember the name of your friends and relatives to which you want to send gift and to which you have given. Here in this checklist you can mention the names and also gift items. It will make your work easy and help you to remember the names. Other than this, it will also help you to keep in view how many gifts you have wrapped and how many left. You can use it in so many ways. On this Christmas with the use of this checklist you are not going to forget anyone.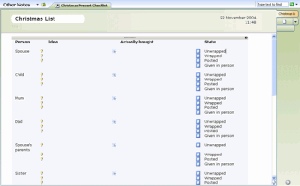 Download Christmas Presents Checklist
Christmas Party Menu
This Menu Card is designed under the theme of Christmas party menu. As parties and get-to-gather is essential part of Christmas event. Likewise if you have arranged a party at your home and you want to invite your friends and relatives you can use this given template to let your friends know what you have for them. The other very effective use of this menu card would be in restaurants. They can use this menu card during Happy Holidays period for their customers. It is designed very beautifully as the image of Santa in very happy mood quite appropriate to the subject. On this Christmas event use this menu card designed beautifully for you.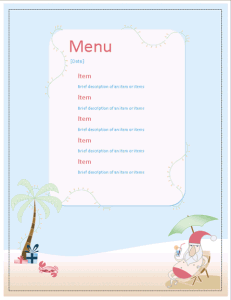 Download Christmas party Menu with Santa
Happy Holiday Menu
Here comes another very useful Happy Menu Card that is going to help you a lot on this Christmas event. The menu card helps in a way to write down your whole plan about the event you have organized. As what is the time, place and surprises you have for your invited guests. If you look at the card the different images abruptly get your attention and give a very pleasant feel. The blue background with snow effect and tree enhance its beauty.  This menu card would be best option for you in spite of the fact you have many other options.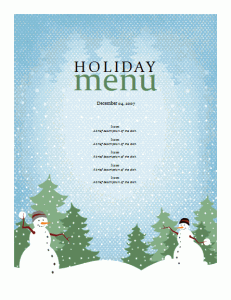 Download Happy Holiday Menu Template
Holiday Family Newsletter
This newsletter is designed under the subject of Christmas holiday event. As the Christmas is about to come and every one is conscious. Everyone is planning something special regarding this event. If you have planed any such event then use this newsletter to inform everyone. The look of this newsletter is quite appropriate to the subject under which it is designed. The conscious use of images adding favor and importance to this card. The different organizations can also use this card if they have organized any event regarding Christmas celebration. There is nothing difficult, you can easily get this card and can use it for your favor.