Free Invoice Templates
Today, almost every one of us needs an invoice to be sent to someone for an item sold, product or service. This can take a lot of your time to create an invoice from scratch, so you feel the need of a ready-made Invoice Template more often? Keeping in view the situation and to help you in this regard, we have got a few of very useful Business Invoice Templates for you. All these templates are completely free to use. These templates are created using the Microsoft Word so that you can use them very easily. All that you need to do is to put your details and print out the invoice. To use these templates is as easy as to use the Microsoft Word.
Find below the preview and details of these Invoice Templates.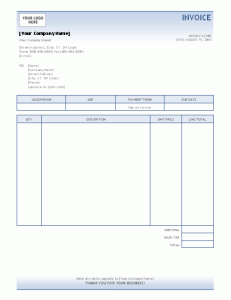 Service Invoice Template
This is wonderful blue themed template that you can send to your customers for the services you provided. You can add your company logo there along with the company name, address, phone, fax and email address. Just below your company information, you can write the customer information that includes customer's name, address, phone, fax, email and customer ID. Below the information of sender and receiver, you can add the service information along with the price. Sub total, tax and grand totals are at the bottom to add the total amount. Indeed, this is a perfect template.
Download Service Invoice Template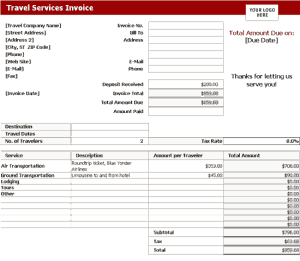 Travel Service Invoice Template
This template is specially designed for Travel companies to be used for their travel services. This template has a beautiful layout with red strip on the top having a place-holder logo on the right side. You can change this place-holder logo with your original company logo. You can write your company's details on the top left along with Invoice number, Invoice total, Deposit received, amount due and Bill to details. The lower part can be used to add the service details with invoice total, tax and total amount. In other words this is a very useful invoice template for this specific business.
Download Travel Service Invoice Template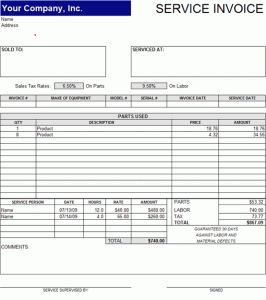 Business Invoice Template
This is another great invoice template created in Microsoft Excel 2007. There is a place on top left corner to place your company logo. You company and customer's details can be added in the merged cell space on top. All the formulas to calculate the labor hours, taxes, calculated price and total amount are already there. All that you need to do is to input your details in the given spaces. This is a fully automated very useful template that will save a lot of your time.
Download Free Business Invoice Template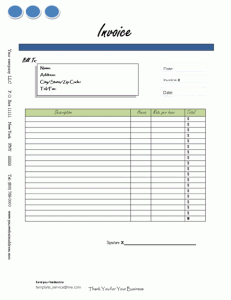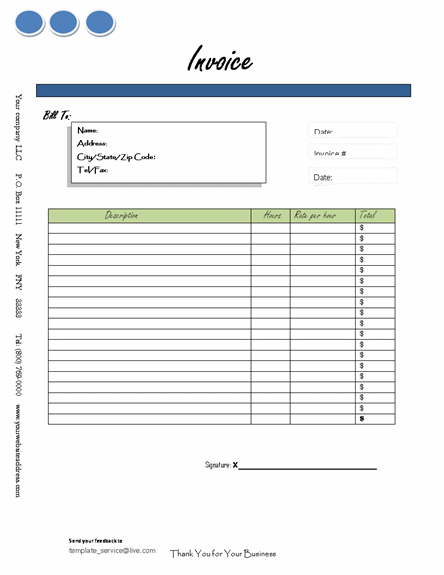 Hourly Business Service Invoice Template
Here comes a great invoice template with a quite different and unique layout. This template is specially designed for services that are charged on hourly basis like web designing, web programming, plumbing, online teaching etc. Your company information can be placed on the left side vertically. This is what that make this template different from others. The customer's information can be placed just below your company logo on a place having shade under it. Invoice date, Invoice id and total can be placed on the right side of customer's information. The service details can be placed below that with service description, total hours spent, hourly rate and calculated amount. This template is designed in Microsoft Word 2007 and thus you can use this very easily.