Free Flexible Budget Template for Business Financial Planning
A flexible budget template is crucial for businesses to manage their finances smartly. It's an all-in-one tool that enables businesses to track and manage expenses, set financial targets, and make informed decisions based on accurate data. With a flexible budget template, businesses can save time and effort while focusing on their core operations.
Using a pre-designed template in Microsoft Excel is a convenient option for businesses. Excel is a powerful tool that comes loaded with features like formulas, charts, and graphs. With a flexible budget template in Excel, businesses can easily monitor their expenses, sales, and profits, and modify their budgets accordingly.
A flexible budget template is a key component for businesses to thrive in today's competitive marketplace. It empowers businesses to make informed financial decisions, stay ahead of the curve, and achieve their goals. Download our flexible budget template now and take the first step toward smarter financial management!
Customizable and Flexible to Your Needs
Our Flexible Budget Template is loaded with amazing features that can revolutionize the way businesses handle their finances. It allows you to effortlessly track direct materials, direct labor, variable factory overhead, and fixed factory overhead costs. Plus, it offers an easy-to-use interface that enables you to modify the template as per your needs. The template is incredibly flexible and can be customized to fit your business requirements.
You don't have to be a financial expert to use our template, it's straightforward to use. With just a few clicks, you can update and modify the data as needed. The template is also designed to be user-friendly, so you don't have to worry about getting lost in the complexities of the software. Plus, it can be easily downloaded in Microsoft Excel, so you can start managing your finances right away.
The ease of use and flexibility of our Flexible Budget Template makes it a valuable asset for any business that wants to stay on top of its finances. Download our template today and see the difference it can make for your business.
Download Template
Take control of your finances and succeed in business with our free flexible budget template – download now!
Below is the preview of this easy-to-use and flexible Microsoft Excel Budget Template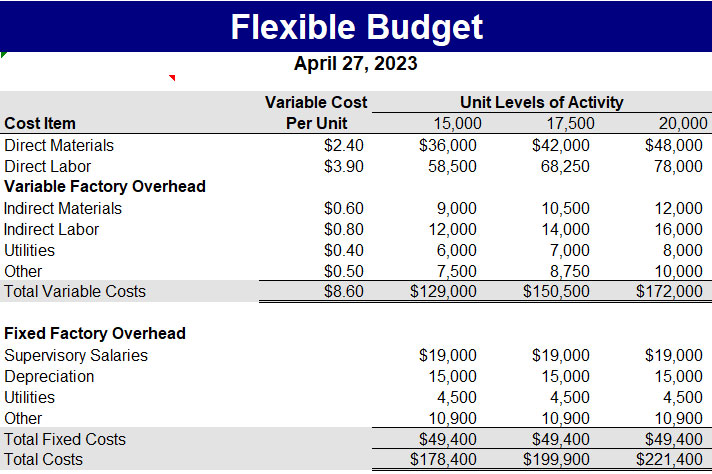 Click the button below to download this template