General Resume/CV Template
Author: Admin
3 Sep
Are you looking for a curriculum vitae template? Then here is an apt and convenient template, created in Word 2007, very easy to change the material as per your demands. In this Resume/CV Format template you will find all the description that you are looking for. If you are a doctor ,an engineer , a manager or associated with any discipline and you are in search of a good curriculum vitae template, then this template is a best option for you, just add your information and your resume / curriculum vitae is ready.
See the Preview of this General Resume/CV Template bellow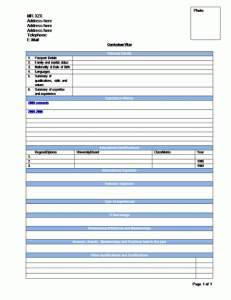 Click the following button to download this Resume Template

No related template.