E-mail business card template
Author: Admin
14 Sep
This Microsoft outlook E-mail business card (Muted colors design) template is designed in Outlook 2007 with a very impressive look. The design and the colours combination give it a very professional look. You can conveniently use this template just after some editing. And above all you can easily mail this business card template to any one you want.
Find below the preview image of this beautiful Microsoft E-mail business card template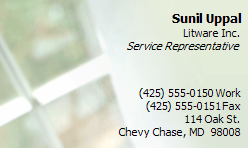 Click here to download this template

No related template.
Tags: